Donate to the Green Envelope Appeal
I started at MSA as a temporary worker. During my first month, I learned about the Masons and the help they are to our communities. I respect the work the Lodges do and how they work together as a family to help improve others' lives.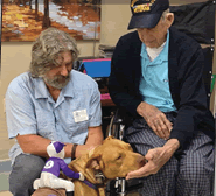 I also learned what the MSA does and it impressed me enough that I asked to become an employee. What struck me is how these Representatives, Deputies, and Volunteers look forward to going to the hospitals to visit the Veterans. I talk with many of our MSA Hospital Representatives and hearing the passion in their voices inspires me. Some of these Veterans have no families that visit. This is where the MSA comes into play. Our Volunteers donate thousands of hours making sure our Vets are not forgotten. We have been able to grow our family of Representatives to help more people at more facilities. We have comfort items that we supply to help them pass their time and bring a smile to their faces.
Masons sit with the Veterans when nobody else does. We sponsor events at hospitals on Veterans Day and other holidays that bring families together. Our Volunteers help with ambulatory care, allowing Veterans to go to church and appointments with doctors. Volunteers bring coffee and doughnuts to events so the Veterans can socialize. It gives me hope for the future to see Rainbow, Job's Daughters, and DeMolay becoming interested. It builds character in today's youth.
What we need from you is a contribution to the Green Envelope Appeal so we can continue to help our Veterans and increase our participation. Our comfort item package costs about 12 dollars a person, and we send out 50 to 100 packages each month. We wish we could send more. Your contribution will help.
Please contribute so we can continue to help more Masons and all Veterans. As our generation ages we need to be able to help more and with your help we will.
—Richard Tirocke, Hospital Visitation Coordinator